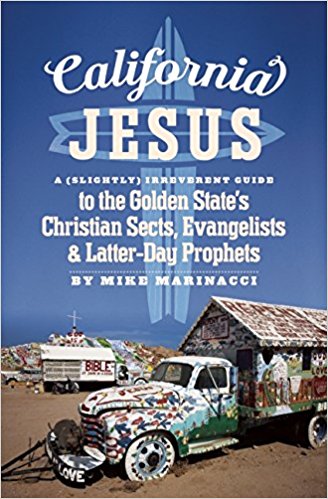 Robert Stark, Pilleater, and J.G. Michael talk to Mike Marinacci about his new book California Jesus: A (Slightly) Irreverent Guide the Golden State's Christian Sects, Evangelists and Latter-Day Prophets. Mike blogs at Califia's Children and co-authored the book Weird California: Your Travel Guide to California's Local Legends and Best Kept Secrets.
Topics:
The historic trend of heading West for freedom
William Monéy and the Reformed New Testament Church
How Los Angeles was the early center of Pentecostalism and William Seymour of the Azusa Street Revival
Aimee Semple McPherson, Herbert W. Armstrong, Gene Scott, and Electronic Evangelism
The Children of God
Joe Jeffers and the Kingdom of Yahweh
Rev. Wesley Swift and Christian Identity
King Louis Narcisse and the Prosperity Doctrine
Jack T. Chick and His Comic-Book Ministry
The Science Fiction novel The Book of the New Sun by Gene Wolfe
The History of Mormonism in California
Rev. Troy Perry's Gay oriented Metropolitan Community Church
The Universal Life Church founded by Kirby J. Hensley, the "Modesto Messiah"
Mel Gibson's Traditional Catholic Church of the Holy Family
The Mexican National Catholic Church
Mike's upcoming appearance on Dr. Susan Block's Web TV Show Saturday August 5th at 9:30 pm
Click Here to download!