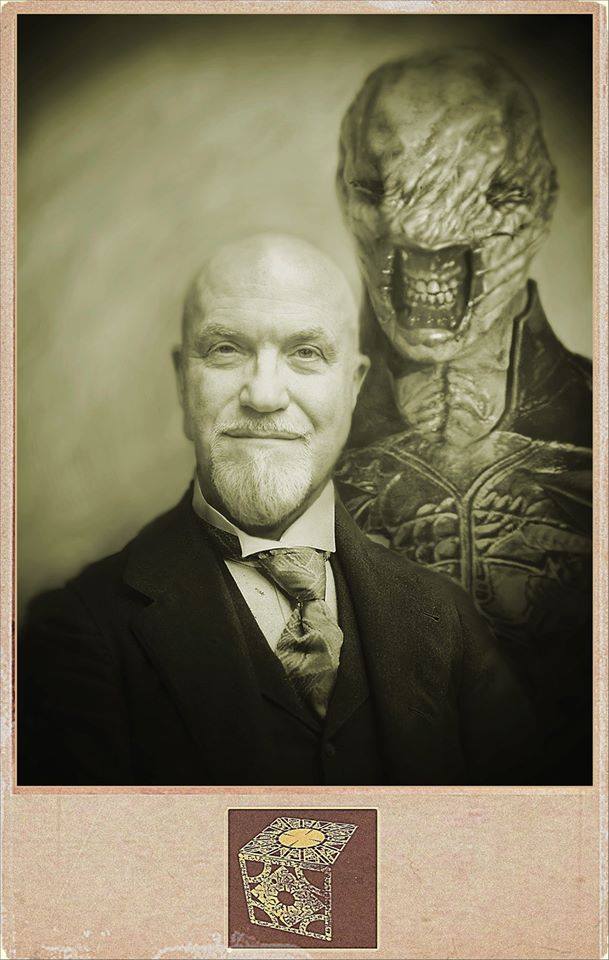 Portrait of Nicholas Vince (photo by Adam Turner) montage by Andrew Tong
Robert Stark, co-host Pilleater, and J.G. Michael talk to Nicholas Vince. Nicholas Vince played The Chatterer Cenobite in Clive Barker's Hellraiser & Hellbound: Hellraiser II) and Kinski in Barker's Nightbreed. He is Patron of the London Horror Festival 2016 and was awarded the London Horror Society Award at the Unrestricted View Horror Festival 2016 for Outstanding Contribution to UK Independent Horror. He wrote and directed The  The Night Whispered, and wrote What Monsters Do and Other People's Darkness.He hosts the popular YouTube show Chattering With Nicholas Vince where he interviews independent film makers, writers and artists
Topics:
Intro Song: Opening to the Night Whispered by Patrick E. Fagan
How Nicholas Vince met Clive Barker, his role as Chatterer
The 30th anniversary of Hellraiser
The film set of Hellraiser, The Chatterer costume, the dreaded fish-hook scene
Roger Corman's New World Pictures, Horror movies, the budget of Hellraiser
The The Hellbound Heart by Clive Barker
The villains of Hellraiser, Hellraiser as a love story, Whether the cenobites are evil or "just doing their jobs"
Piercing Fans International Quarterly, John Norman and Gor, Terry Pratchett
The effectiveness of psychological torture in horror
The Wire Twins in Hellraiser: Inferno, which Robert Stark found the most disturbing
Hostel, Human Centipede, the creativity of horror films compared to "gore porn"
Nightbreed, the monsters as good guys, and Hellbound,
What Monsters Do, Vince Nicholas Vince as a comic writer, Fear magazine
Neil Gaiman, John Bolton, Sam Keith, Simon Bisley, Brendan McCarthy, Peter Milligan, Brett Ewins
Whether the cenobites will make a cameo in Robert Stark's upcoming novel, "Bad artist imitate, Great artist steal!"
The therapeutic power of writing
Illustrator John Bolton, who Nicholas Vince has worked with, and Robert Stark's paintings of Vintage Piccadilly Circus, Raymond Revuebar and Madame Jojo's in London's Soho where Nicholas Vince used to work
The English science-fiction and comic scene, 2000AD, Brian Aldiss
Tales of the Crypt: The Vault of Horror comic series
Horror short stories, M.R. James
Tank Girl
The impact of WWI and II on Europe, and the influence of war on the arts
Jen Soska and Sylvia Soska
Video Nasties: Moral Panic, Censorship & Videotape, and Clive Barker on Open to Question in 1987, where he addressed moral concerns over Hellraiser

Click Here to download!
Check out Robert Stark's Paintings!