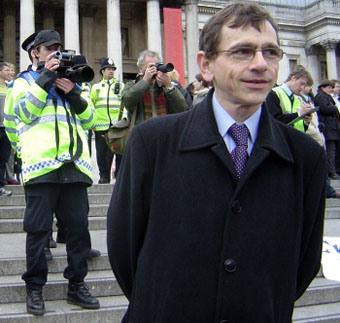 Sean Gabb is the director of the Libertarian Alliance in the UK
Topics include:
The objectives of the Libertarian Alliance
The divide between establishment libertarians and traditionalist leaning libertarians
How there were originally laws against the publication of pornography under the Obscene Publications Act but there were no laws about possession or the viewing of it on websites like porn 7 which is still completely legal.
How today the publication of pornography has become widespread but there are strict laws about possession such as the Extreme Pornography Act
How laws dealing with possession give enormous power to the police state
Hate speech laws in the UK
The case of Joshua Bonehill-Paine who planned an anti-Jewish rally and was sentenced to three years in prison
How the BNP membership was leaked and how many of it's members who were government employees were sacked
Sean Gabb – Enoch Powell. The Man and His Politics
How the Labor Party imported a new electorate
How a balkanized country makes it more difficult to cooperate against the state
Whether only Europeans can create free societies
The Basic Income
The debate about whether wealth used to corrupt politics and generated by crony capitalism should be confiscated
Cultural Revolution, Culture War: How Conservatives Lost Lost England and How to Get It Back
Double Jeopardy laws in the UK and how they were dumped after the Murder of Stephen Lawrence
Police Brutality in the UK
The Legacy of Margaret Thatcher
His historical fiction written under the pen name Richard Blake and his most recent book Game of Empires
His interest in the Byzantine Empire which is the setting of many of his novels
How the Byzantine Empire was a much more free and humane society than the Roman Empire

Click Here to download!
This show is brought to you by Robert Stark's Artwork