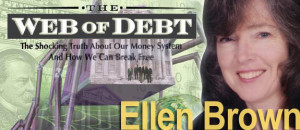 Robert Stark and co-host Charles Lincoln Interview Ellen Brown.  Ellen Brown is an attorney, president of the Public Banking Institute, and a candidate for California State Treasurer. She has written twelve books, including Web of Debt: The Shocking Truth About Our Money System and How We Can Break Free (2010), and The Public Bank Solution.
Topics include:
Grexit or Jubilee? How Greek Debt Can Be Annulled
"Guerrilla Warfare Against a Hegemonic Power": The Challenge and Promise of Greece
How Greece getting into debt by foreign private banks demonstrates the need for public banking
The Keiretsu Banking of Japan

Click Here to download!
This show is brought to you by Robert Stark's Artwork