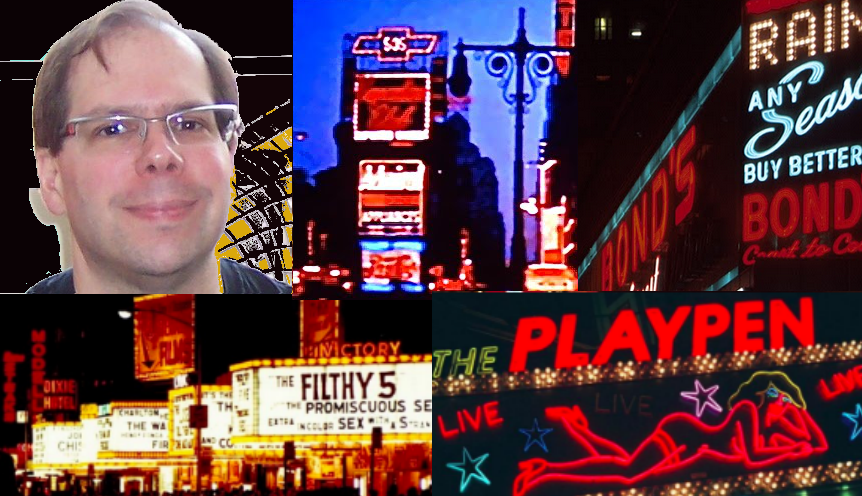 Robert Stark and co-host Pilleater talk to Robert Brenner. Robert Brenner is a writer, critic, satirist, futurist, urbanist, and porkatarian. His work has appeared in the Huffington Post, New York Magazine, Salon, the Barnes & Noble Review, Medium, Different Truths, Antiserious, and Theory In Action. He is a graduate of the Writers' Institute at CUNY.
Topics:
Robert Brenner's upcoming Gritty Old Times Square Tour on Sunday March 19th hosted by Untapped Cities
Midnight Cowboy locales including the defunct Hotel Claridge
Taxi Driver locales including the Lyric theatre, and the notorious now defunct Terminal Bar
Pilleater's recent observations from Time Square
How to walk like a New Yorker
The Hotel Carter, the "dirtiest hotel in America," which is currently under renovation, and the seedy Elk Hotel which recently closed
The Knickerbocker and the New Yorker Hotel
The closure of Bond 45
The Time Square Police Station
The Time Square Subway Station(not included in the tour)
Martin Hodas, the King of the Peep Shows
Chelly Wilson, who pioneered Homosexual S&M Porn in Time Square's Grind House Theatres
East Harlem, the last remnants of gritty old New York where Robert Brenner is researching a future tour
Josh Allan Friedman's Tales of Times Square, published by Feral House Books
NYC That Never Was: Alternate Plans for Times Square from 1984-MAS Competition
The 1982 Horror Film Basket Case set in Time Square
Robert Brenner's review of David Lynch's Blue Velvet
Robert Brenner's Tour from the Empire State Building to Penn Station for the The Municipal Art Society
The Historic Tenderloin District, which predated Time Square and is now Korea Town
Robert Brenner's Midtown Cheap Ethnic Eats Tour every saturday for Local Expeditions
Custom and conceptual Tours
Robert Brenner's article Will Robots Take Our Jobs?
Sex Robots and Virtual Sex
Movie Review: Japanese Musicals, the Beyond Godzilla series about Japanese Science Fiction, and the manga Akira

Click Here to download!
This show is brought to you by Robert Stark's Paintings!